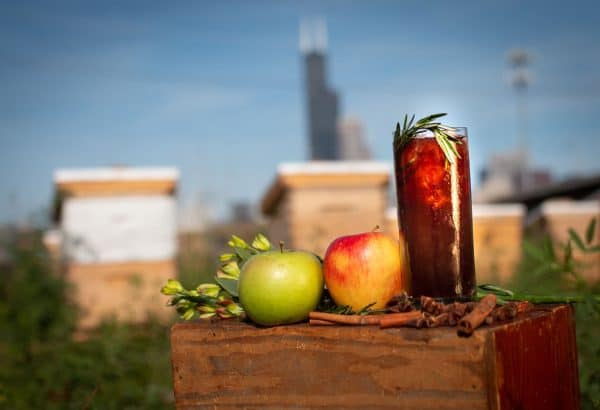 Spiked Pomegranate and Rosemary Cider
Tools: Medium Sauce pot
Glassware: Mug or Rocks Glass
Garnish: Orange wedge and Rosemary Sprig
Ingredients:
1 ½ oz Vodka
3 oz Pomegranate and Rosemary Cider
2 dashes  Angostura
Cider Recipe:
1 Liter Pomegranate Juice
1 Tbsp Clove
1 Tbsp Allspice
3 Anise Stars
2 Cinnamon Sticks
1 Green Apple, Quartered
¼ cup Brown Sugar
2 Sprigs Fresh Rosemary
For the Cider:
In a medium sauce pot over high heat, toast clove, allspice, anise stars, and cinnamon sticks until lightly browned and fragrant, make sure to move spices frequently
Turn the heat down to medium, add pomegranate juice and apple, let simmer for 20 minutes or until apples start to get softer
Stir in brown sugar until dissolved, then add rosemary sprigs
Let cook for 15 more minutes, or longer if you want more of an herbal undertone
For the Cocktail:
Hot- Pour CH Vodka and Angostura into a mug, pour over heated cider, stir and serve
Cold- Combine CH Vodka and Angostura over ice in a rocks glass, pour over room temperature cider, serve
Hack:  Have guests serve and spike their drinks themselves.  Put your Pomegranate and Rosemary Cider in a punch bowl or leave it on a very low heat on the stove with a bottle of CH and a jigger and directions nearby (so they can measure the appropriate amount of alcohol).  This makes sure your non-drinking party goers can still have some seasonal cheer.